I had big plans for this ski season, extending into the month of March. Now I'm in London, it's mid-February and I think I'm done.
Ten days on the snow so far and it's been a helluva season. I'm home in London now and my boots are on the kitchen floor. Every time I walk past, I think I should still be doing some turns somewhere.
I bought new boots and moved to fatter skis this year. Skied new mountain terrain and floated in the deepest powder for me in over 10 years. Originally I planned to have one or two more trips in March. Now I might skip them because I can't possibly match this year's experience so far. Nice problem to have.
Zermatt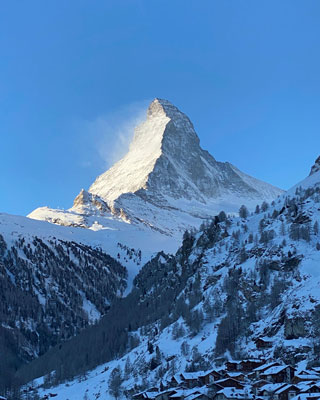 My warm-up for the season was four January days in Zermatt. Incredibly sunny and cold. Below average snowfall, but a very good, groomed cruising surface. The scenery at Zermatt is perhaps the best I've ever experienced while skiing. Typically when skiing, you are surrounded by big mountains in the distance. In the town of Zermatt, the Matterhorn is front and center. As you navigate the lift system, ascending to the skiable terrain, you orbit the Matterhorn, getting closer and gaining different perspectives continuously.
The Zermatt lift system tops out on Klein Matterhorn at 3,883m. In January, the air is too cold and the days are too short to melt the snow. When we arrived, they hadn't had any significant snow for 20 days. Nevertheless, we were skiing on hard-packed snow and very little ice. My new boots were a bit stiff, but I was riding a pair of AK Green parabolic skis that were stable, grippy and edgy on the snow. Cutting fast, banked carving turns on the groomed runs felt like riding on rails. Super start to the season. 80,000 vertical feet and 90 miles in four days. Top speed 42mph.
Yearly Kitchen Pass
After 11 days of rest in London, I headed to the Western States on my annual kitchen pass. I've done this every year since we left California. This year, my route took me first to the San Francisco Bay Area, then ski days in Jackson Hole WY and Summit County CO. After skiing, I returned to SF and then spent four days in the Los Angeles area before heading home.
The California days were sunny and warm. The ski days were big. In Jackson Hole, I met up with many friends from my time developing medical reference software for Teton Data Systems Health.
Jackson Hole, WY
Jackson Hole is unlike any developed ski resort I've ever experienced. Locals at Jackson Hole like to ski laps. A lap consists of riding the aerial tram up 4,130ft, descending the mountain non-stop and repeating again. You never sit down and you can't whinge. For some local skiers, it's not a true lap unless you descend faster than the tram car and then catch the same one going up again. Not for me. One guy likes to talk about doing 8 laps in one day. I've never done more than 5, even at age 32. These days, I do 1 then find a seat somewhere.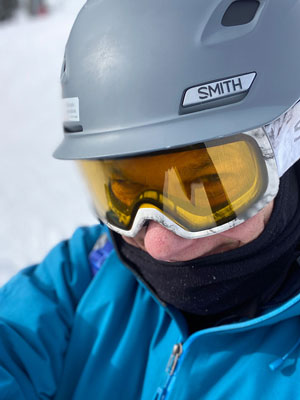 I was riding a pair of Blizzard Brahma 88's. These are lengthy, very stiff skis with a hybrid shape. In three Jackson ski days, I found myself fighting against the ski as I moved from remnant ice to piles of new snow. Visibility was sketchy and my legs became rubbery from chasing mostly younger and more fit ski buddies. I did find some respite in the Bivouac Trees and Flip Point and Alta 3 leading into Laramie Bowl. Better visible definition, less ice and some pillowy landings in deeper snow.
My one day in Idaho was a highlight. The sun was out and the sky was pure blue. The drive over Teton Pass was beautiful. I met up with my old buddy JP at Grand Targhee for some early cruisers and moderate side-country trees. I also reconnected with my former software collaborator Chris who has moved from Jackson to Driggs ID.
A heavy storm moved in on the last day. These storms start with a lot of wind and it takes a while before the snow really piles up. With it dumping all day, the tracks filled in. The late-day runs were the best. In the end, I packed up and headed to the airport and my scheduled flight to Denver and Summit County.
Which did not happen according to plan. I didn't get out of Jackson until noon the next day. The drive up from Denver took 8 hours and I didn't arrive until 11:30 PM, about 24 hours total delay. I met up with David at a rented house in Frisco, CO.
Summit County, CO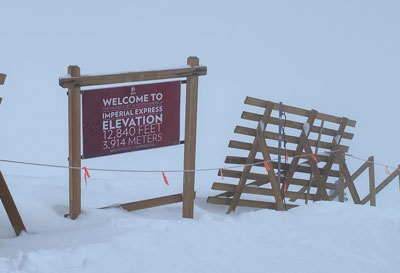 Our ski days in Colorado were massively good. About two feet of new snow fell before I arrived, and it kept coming. We skied at Arapahoe Basin and Breckenridge. I was riding fat Volkl M5 Mantra's. 95mm under foot, 117mm top and tail. These skis float nicely and have a strong edge. They claim to have a tight turn radius, but that's irrelevant in deep powder. They go where you point them. David is a very strong skier and I was pushed to the limit. We did lengthy sequences of uninterrupted turns on loose, deep snow. We reached the highest lift summit in North America on the Imperial lift, rising to 12,800ft.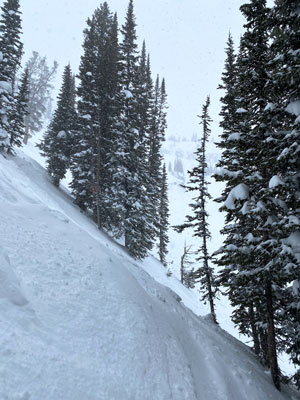 As a North American skier, this is what I live for. In Europe, people stay inside when storms hit. Most of the runs are above the treeline. In clouds and snow, you can't see anything. It's easy to get snow blindness or lost.
In North America, people come out for storms. At both Jackson Hole and Arapahoe Basin we scrambled for parking on the snow days. You line up early and wait for avalanche control to be completed. You work your way up the mountain as the successive lifts open one-by-one. Race to get first tracks in the new snow. Everyone has their secret stash. There are no friends on powder days.
California and Home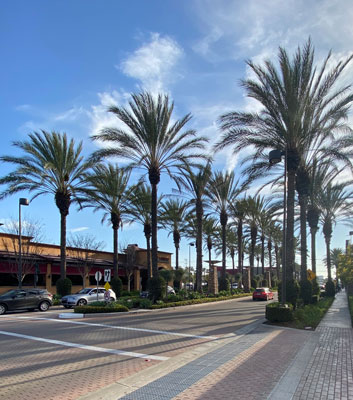 For me, this was the best powder skiing since 2008 when Kirkwood, CA got over 800" in a single season and our house was completely buried.
Back in California, the warm sunshine felt good and I connected with more friends and family. Now I'm back in London looking back and forward at the same time.