Saturday, I biked in Central London during the Lockdown. It was a remarkable experience to see London free of cars, trucks, air pollution, and noise. This was my route.
It's about ten miles from home in Twickenham to Buckingham Palace. From there, I cycled through Westminster, Trafalgar Square, The Strand, St. Paul's Cathedral, Oxford Street, Picadilly Circus, Hyde Park, and The Albert Memorial.
Biking on Car Routes
On the ride into London, I navigated as though I was driving a car. Taking the big, multi-lane roads would be risky in pre-pandemic days. Saturday it was no problem. Once I reached Buckingham Palace, I continued mostly on streets that were closed to cars. On a warm, calm, sunny, hazy day, it was eery and quiet. A memorable experience.
For the ride home, starting at The Albert Memorial, I rode a string of High Streets through Knightsbridge, Kensington, Hammersmith, Chiswick, Kew, Richmond, and home to Twickenham. On my first ever visit to London in the twentieth century, I walked that route. Not much has changed.
I arrived home, cut the grass, cracked open a Buxton Axe IPA, and fired up the Big Green Egg. A good Saturday.
New Normal Cities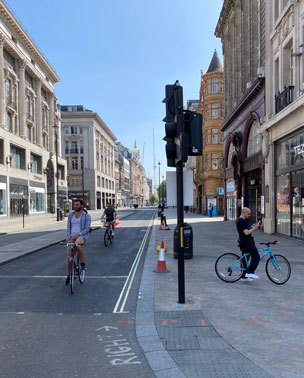 As cities start to reopen, people are frequently speaking of a 'new normal'. I hope this new normal includes fewer cars and more bicycles. My three most familiar cities are New York, San Francisco, and London. None are good for driving and cars do more harm than good. It's time for us to prioritize walking and human-powered vehicles. It's better for personal health, social interaction and the environment.
In 1989, San Francisco's Embarcadero Freeway was destroyed by an earthquake. The City decided not to rebuild and replaced the elevated freeway with a boulevard. The transformation over the past 30 years has been stunning. A huge decrepit blight was transformed into one of the most beautiful waterfronts in the United States. It's highly accessible with open public areas and it's friendly to pedestrians and cyclists. I hope this is a model for making cities better as we emerge from Covid-19.
Biking Central London in Lockdown